Order Here!
ACT! Email Connect

ACT! Email Connect
With ACT! Email Connect for MS Outlook, you can start your Outlook email directly in ACT and send email from Outlook or send and attach to ACT!. No ACT! email client or ACT! addressbook is needed.
ACT! Email Connect Standard
$69
ACT! Email Connect Professional
$99
ACT! Email Connect Professional
Requires Sage ACT! 2009 or newer.
ACT! has excellent email capabilities with MS Outlook but it still lacks some specific features that many users would like to incorporate in their day to day integration.
ACT!-Email-Connect Professional for Microsoft Outlook adds the features that ACT!'s Outlook interface lacks.
Here are some EmailConnect Pro features that ACT! does not include:
Attach Emails while at the same time, have the Date, Subject AND Body copied into the History
Use ANY email field in your Act4Advisors database such as Spouse Email, Personal Email, etc.
Mark a flag next to Outlook email messages that have already been attached
Send an email to one contact but at the same time attach it to another
Attach the email to any contact, group or company
Set preferences to only attach the email to the desired addressee, ie. TO:, CC: and/or BCC:
Email Merge to any MS Word template
Right click on an Outlook email and create an ACT! activity
Right click on email messages in Outlook and lookup the contact in ACT!
Finds and attaches to any email address including Secondary Contacts emails.
Status window confirms when the email is attached
Does not require that ACT! be added as an Address Book in Outlook.
You can start your Outlook email from ACT and simply send the mail through Outlook or you send and attach the mail to ACT!
The email address in the Outlook message is the key for the connection to the ACT! database. – There is no need to use the ACT! email client or even add ACT! as an Outlook address book.
From Inside of ACT!

Simple Email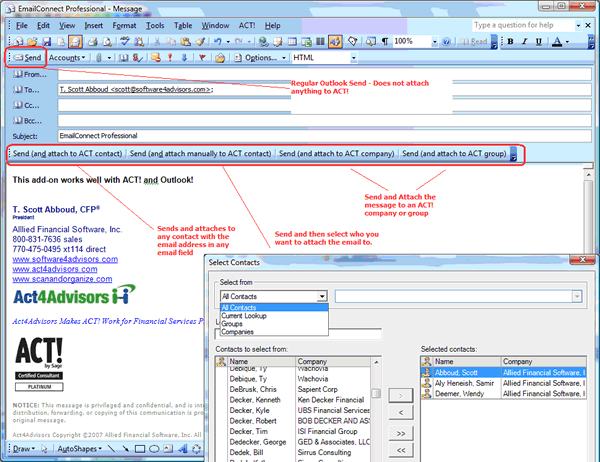 When you send and attach the email, you get this confirmation.

Right Mouse Click on an Email in Outlook and decide what to do.
Advanced Email Merge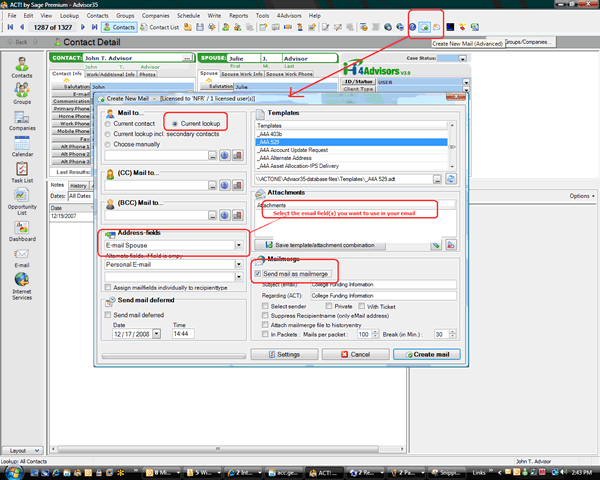 Advanced Settings